The Company...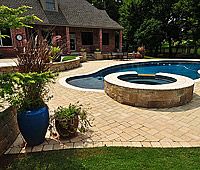 Outdoor Escapes is an outdoor design build company servicing OKC & surrounding areas. We have over 10 years experience in creating beautiful residential outdoor living spaces. Our designers are degreed professionals with a keen eye for detail that result in dramatic finished products.
We strive to meet all of our customers needs. With our Mission Statement being "Creating Quality Outdoor Living" we strive for perfection in all our jobs & projects. Our servicees range from a complete master plan design to construction of outdoor living spaces.
We specialize in building such spaces as Outdoor Cabanas/Pool Houses & Arbors/Purgolas, along with "Custom" built Fireplaces and Kitchens for your Outdoor enjoyment. We are also well versed in custom concrete swimming pools, retaining walls and landscape. A list of projects with several examples are listed in the profile section of this website.
Please feel free to email us with any questions or comments you might have.
Design Philosophy
Are philosophy is to work on projects as early as possible to ensure that the project is fully integrated, the budget is properly allocated and maintained. We believe the best solutions result from a thorough understanding of the unique characteristics of each site and a respect for the prevailing natural systems. We prefer our clients to be involved and to develop an understanding of the design.
Outdoor Escapes installs only quality outdoor living for our customers and we look forward to serving your outdoor needs. Contact us today!
Our Services...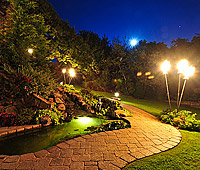 Consultation: Usually a one-hour visit with the client to examine the property to decide what, if anything, is worth saving, the factors influencing design such as light, moisture, wind and soil consistency, a discussion of the client's needs, wants and dreams and how to achieve those within the client's budget.
Design: The process of creating a plan on paper which evolves from the discussions during the consultation. At the end of the process, during which the client will be consulted for input, the client will be presented with a plan, a chart and an estimate for installation.
Installation: Although the plan can be put out for bid, we discourage this because the result frequently bears little relation to the original design. Most of our clients allow us to perform the installation of our designs. We order all material and arrange for its delivery and we oversee the installation to be sure that it conforms to the project design plan.
In addition to design, we also offer the following:
Services we offer:
Pavers (Driveways/Patios/Pool Decks/Walkways)
Landscape (Design and Install)
Outdoor Living Areas
Custom Concrete Swimming Pools and Pool Remodels
Kitchens/Fireplaces
Arbors/Pergolas/Pool Houses
Custom Stone Work
Retaining Walls
Sprinkler