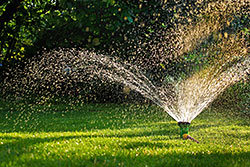 No landscape design is complete without a well-planned irrigation system. Planting gardens and installing extensive lawns with no proper irrigation system, can prove to be a very expensive mistake and the irrigation installation has to be in place along with the landscaping. The only way of ensuring that your plants and lawns will stay alive and healthy is to have effective sprinkler systems. Today, these have proved to be a boon for busy homeowners.
The Experienced Contractors
We at Outdoor Escapes have years of experience with landscaping and lawn irrigation and make the installation hassle-free for you. As a matter of fact these two services go hand in hand and our deep understanding and extensive knowledge about softscaping gives us an edge when it comes to installation of sprinkler systems. We know exactly which lawn irrigation systems will work best for your property. We leverage this knowledge and experience and install the right kind of lawn sprinkler and suggest that you use the system that has an automatic sprinkler controller.
Irrefutable Benefits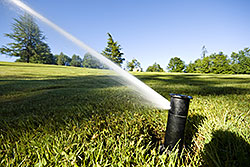 Sprinkler systems toss water into the air at predetermined frequency and the vegetation is treated to a consistent shower of water which keeps its fresh and green. The controllers have to be set to function during the early morning hours. There are some distinct advantages to using sprinkler systems:
Most homeowners opt for sprinkler systems due to the convenience factor. The lawns can be watered at regular intervals very effectively. There is no dragging around a hose or even shifting the sprinklers around the lawn.
These automatic sprinklers will ensure that your lawn is watered even when you are away on a long vacation- what more could you ask for?
Extended plant life & lower water usage are also very important benefits
Sprinkler systems are 1 of the best financial-investments that homeowners can make in their home. Having a well-maintained and watered lawn is also a way of upping the value of your property.
Over a period of time, this system saves you a significant amount of money as it promotes the efficient use of water.
You are also protecting the environment by conserving water
It will reduce your water bills
You will also save money on landscape maintenance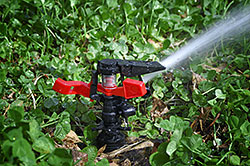 Professional and Specialized Installation
The important thing is to have a professional contractor carry out the sprinkler systems installation for you. We will ensure that the system is designed for your specific property and proper maintenance is important too. Remember that even a few days without water can do irrevocable damage to your lawn and plants. Even as you have a sprinkler system installed for the lawn, ensure that you have an automated drip-irrigation system installed for the rest of the plants too.
This will ensure that you have a garden that is perennially beautiful and green. For the best sprinkler systems, call Outdoor Escapes 405-990-8944. We serve Moore, as well as the surrounding areas of Yukon, Chickasha, Norman and El Reno.