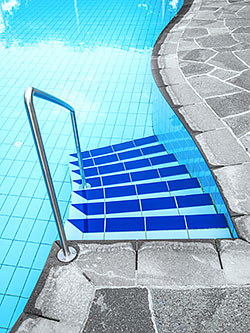 Pools are a definite value-add to your home. They are a place that you and your family can relax in and the poolside is a great place for entertaining guests too. But it's important to make the right design choice for your pool. This is where custom concrete pools come into the picture. They offer infinite design possibilities. We harbor a great deal of expertise in constructing in-ground pools and well as above ground pools.
The Benefits
Once you have decided upon the exact style you need, Outdoor Escapes will work closely with you, understand what your exact needs are, and create a pool design exactly as you envisioned it. If you already have a pool and need it upgraded we also offer pool remodels that are carried out with your needs in mind. The pools that we build will complement the structure of your home and blend in perfectly with your existing landscape too. A majority of homeowners today prefer custom concrete pools as they offer certain distinct advantages:
They can be installed at almost any site such as cliff edges, rock sites, suspended structures, slopes and waterfronts. If you so prefer, they can also be a segment of the foundation of the house and the water of the pool can lap the house walls.
A concrete pool can also be built outdoors, indoors or have indoor & outdoor sections to it.
It is possible to incorporate many other features like designer shallow ends and deep ends, wading areas, variable depths, mid-deep pools, deeper diving areas, swim outs, level deck areas, safety ledges and seats as well as disappearing edges- the possibilities are literally endless.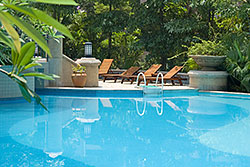 With so many options, pool remodels & concrete pools are the best way to set your creativity free. We take all your specific needs and style quotient into account and create these elements with attention to detail. Our expert designing team ensures that your pool blends in perfectly with the landscape and the architecture of your home. It will suit your entertainment and lifestyle aspirations to the T.
Customization is Key
Since it is customized, and built especially for you, your pool will always be unique and there is very little chance that anyone in the neighborhood will have the exact same design. Since these pools are made of concrete, they are very durable and require very minimal maintenance. In the long term, it is an excellent investment. Customization in design is not just about the pool itself, and we take all the surrounding elements like decks and pool houses into account.
All of these go into providing a cohesive look to your yard. We can cater to your budget, design and style needs and create custom concrete pools & remodels that will be the perfect addition to your beautiful home. Call Outdoor Escapes on 405-990-8944 for the best custom concrete pools. We serve Moore, as well as the surrounding areas of Yukon, Chickasha, Norman and El Reno.