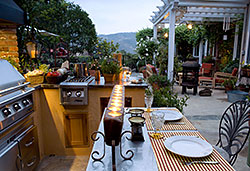 Outdoor kitchens & fireplaces are the ideal way of equipping any semi-outdoor or outdoor space in a yard or garden. The area that is created around them is perfect for entertaining and relaxing. Outdoor kitchens can be as elaborate or simplistic as you want them to be. Some might have nothing more than a couple of BBQ grills on patios while others could be very detailed in design and setting and could be outfitted with countertops, bars, sinks and storage cabinets.
Numerous Considerations
No matter what your requirement, Outdoor Escapes can provide you with the best outdoor kitchens. The factors we take into consideration are:
The ideal location
The number of people you need to accommodate
Your individual entertaining needs. Once we have understood these, we will then create segregated areas for a variety of functions like cooking and food preparation as socializing and dining
The size requirements & design layout as well as the placement of the countertop will be taken into account. We will go into great detail to understand your ideas and requirements and then allocate the areas for all the cooking equipment like grills and sear zones as well as side burners and warming drawers. If you require a refrigerator to be placed in the outdoor kitchen or want an outdoor fireplace or firepits there, these requirements will also be taken into account.
Functionality & Design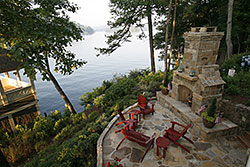 Even as we focus on functionality, we keep the design element within view at all times and aesthetics and beauty are always given importance in any outdoor fireplaces and kitchen designs that we create. The other factor we take into account is whether the kitchen is exposed to the elements and how much shade it gets. The furniture and equipment that is used there will be dependent on this factor.
Materials Aplenty
There are a variety of countertop materials to choose from and granite weathers the elements extremely well. Alternatively, stone, ceramic, stainless steel and concrete are the other countertop options for outdoor kitchens. All the materials we use are of the highest quality and we make sure that cabinets are made of waterproof and heat resistant materials. We use all the appropriate sealants to ensure longevity of all the outdoor furniture.
Livable and Attractive Spaces
We know that any kind of outdoor living space is an extension of your home and that it should be designed and planned with as much of care as the rest of your house. Since we also have extensive experience in landscaping, every aspect of these outdoor living spaces is perfectly matched to the rest of the surroundings.
Even as we create these beautiful and functional spaces for you, we keep your budget in view and provide you with the best services. For the best outdoor kitchens & fireplaces call Outdoor Escapes on 405-990-8944. We serve Moore, as well as the surrounding areas of Yukon, Chickasha, Norman and El Reno.