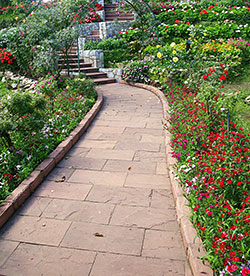 Yards and gardens are places that you can unwind and relax in. When you add aesthetically designed features like cast stone steps, a stone fireplace or any other custom stone work to the outdoor spaces around your home, it encourages you to use these areas more. Stone is a naturally-occurring material and the sheer variety of stones that are available, give us the opportunity to create unique and alluring outdoor spaces that are a pleasure to look at and live around.
We at Outdoor Escapes are well-versed with all the ins and outs of how to use custom stone work and use it in the best possible way to create hardscaping that will complement the carefully chosen softscape in your garden. Limestone and slate are very commonly used stones in custom stone work and there are a large number of materials and elements that can be used optimally in outdoor spaces.
The Creative Edge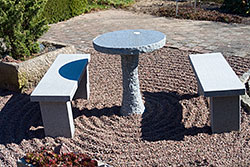 We have the most creative hardscape designers and the most experienced and skilled craftsmen on board. They work in tandem and create custom stone work designs that are unique and stunning. Apart from slate and limestone, bricks, granite and marble may also be used to add perspective to create beautiful designs for your garden or yard. We pay attention to every little detail and ensure that every aspect of the design is worked out TO perfection. We first understand what your exact ideas and needs are and then create the best designs for you.
Adding Appeal
There are times when clients want a custom stone replacement for the exterior of their home. This job is also right up our alley and we can also create the most beautiful stone finish on your home, We have years of experience with all kinds of stone work and can also apply stone siding on the exterior walls of your house, to enhance its appeal and give it a unique look. Real stone siding has numerous benefits to faux stone and we have handled numerous projects such as these, very successfully.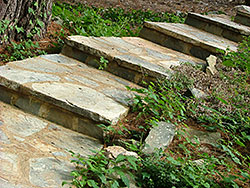 We have a very specialized approach to custom stone work and are very passionate about the medium. This gives us an edge over any other companies that carryout work such as this. Even as we create the best designs, we keep a very tight rein on costs and work strictly within your budget and all of this, without cutting any corners. All the materials that we use are of the highest quality and our craftsmen are also chosen with care.
The Perfect Job
We do a thorough job and ensure that all the exposed stone is duly finished and sealed well. This provides protection from the elements and adds longevity to the detailed stonework. We build everything from garden walls, patios, walkways, pavers, rockeries, ponds and waterfalls, to outdoor fireplaces and fire pits as well as outdoor kitchens and stone ovens. In short we specialize in all kinds of custom stone work. Call Outdoor Escapes on 405-990-8944. We serve Moore, as well as the surrounding areas of Yukon, Chickasha, Norman and El Reno.