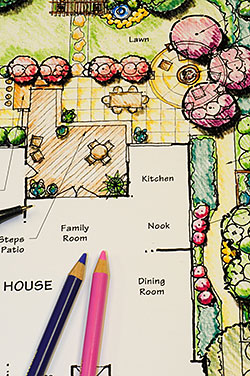 Concrete pavers are a very common feature in many walkways and driveways and their design and installation is a specialized job. It is also possible to install pavers on patio areas and these are available in a variety of sizes, colors and shapes. You can find a range of concrete pavers for patios and walkways in many home improvement stores, but Outdoor Escapes has the most unique paver designs and patterns. We have years of expertise in this space and can acquire the highest quality pavers for you.
Types of Pavers
We have the absolute latest pavers and you will be able to have a beautiful home with the latest trends. Our design and installation expertise ensures that your home looks unique and stunning. Take a look at the different kinds of pavers that are available:
Concrete Pavers - These pavers are available in a range of shapes, sizes & colors Most of these interlock & the patterns are made to function that way. The interlocking structure keeps them firmly in place and any area they cover looks very well finished and sophisticated. Since these pavers are set directly onto the compacted sand, the design and installation is very fast.


Brick Pavers - These are an alternative to concrete pavers and are available in a wide range of finishes. You can choose from smooth finish or textured ones or if you prefer a rustic finish, you can have that too. They are much lighter than the concrete ones and are ideal for patios. The installation is easy and it is possible to get very high-grade and durable brick pavers to add a special touch to your home.


Tile Pavers - These are made of ceramic and are an excellent option for anyone who prefers a more finished look. They are also available in a wide range of colors and add a very cheerful look to the area they adorn. Since they are all factory-cut to perfection, installation is easy and it is also possible to achieve a very elegant look with them. Homeowners who have allocated a more modest budget for design and installation of pavers opt for these ceramic tiles. It is an ideal alternative to replacing the concrete slab.


Natural Stone Pavers - These specialized pavers are for people who prefer a rustic and earthy look. They are available in irregular and uniform shapes and flagstone is a commonly used on patios. Bluestone and slate pavers are amazingly beautiful and they also blend well with other slate stone work that you might have in your landscape.


Great Expertise
We carry out design and installation of pavers and have the expertise to match the work to the existing hardscape and structural elements in and around your home. The one way to maintain a cohesive look is to ensure that the designing is perfect and the installation impeccable. And when you hire the services of Outdoor Escapes that is exactly what you get. For the best paver design and installation, call Outdoor Escapes on 405-990-8944. We serve Moore, as well as the surrounding areas of Yukon, Chickasha, Norman and El Reno.