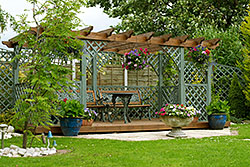 If you have a yard and want to embellish it with some sort of outdoor structure that is also functional, you can consider arbors, pergolas or pool houses. The terms 'arbors' & 'pergolas' are very often used to describe the same kind of backyard structure. While they look very similar, it is very important to keep in mind that these are actually very different and that they are built for different purposes. So, how then are these two structures different and how can we spot the differences?
Arbors & Pergolas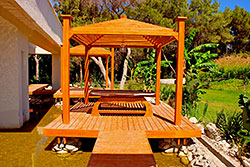 An arbor is essentially a freestanding structure that has supports on either side & across the top. These are typically formed with lattices. It is generally erected over an entranceway or walkway to a garden. On the other hand, a pergola is a free-standing structure that has a slatted roof and is supported by 4 posts. It is often more of an outdoor entertaining area. Conventionally, arbors are smaller and are not very well-suited for sitting underneath them. A pergola will have open sides but some are also covered with lattices and might have plants and vines running over them.
Regardless of all these differences, arbors & pergolas are really very similar-looking structures. Both may have climbing plants that are trained to grow up the sides as well as along the roofs and both can provide a certain amount of protection from the elements. We at Outdoor Escapes have years of experience in designing and building these decorative outdoor structures as well as pool houses.
Pool Houses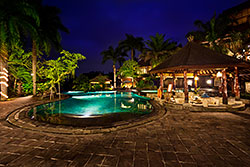 The latter is not just an extension of the pool. It is actually an additional feature of a home and has many benefits. The structure itself can be as simple or decorative as you like it to be and we also ensure that any pool house we design blends in well with the architectural elements of your house. You can choose from a simple cabana-style structure that is used for changing or it can be a complex structure that has more space and multiple uses. Your choice will depend on your specific needs & budget.
Pool houses will have a change room and a bathroom. It may have a small kitchenette if you choose and is an ideal place for entertaining guests. You can also have a small enclosure adjacent to this structure that can serve as an outdoor shower. Part of the pool house can be semi-covered if you like, which provides a lounge-like feel and you can also have a fireplace built in it for some added comfort and coziness. Swimming pools come with numerous accessories like loungers, snorkels, rafts, goggles etc and having a pool house is a definite boon.
These different yard structures can turn your property into a beautiful and relaxing zone. It's your space and we can help in creating the best designs that will do justice to your unique style and spirit. Call Outdoor Escapes on 405-990-8944 for the best arbors, pergolas and pool houses. We serve Moore, as well as the surrounding areas of Yukon, Chickasha, Norman and El Reno.