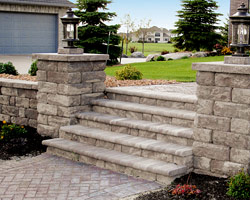 Diamond® 9D Multi-piece Collection
Timeless, versatile, durable
Crafted with timeless quality, the Diamond® 9D retaining wall system brings a touch of elegance to every landscape design. Its versatility makes it ideal for curved, straight or terraced walls, as well as steps, corners, planters, and raised patios.
Colors and Shapes
Actual color and size may vary. To assure your total satisfaction, request samples of the style and color you're interested in.
Visit your local Belgard® dealer for color selections.

Multi-piece
6" x 17 3/4" x 9"
6" x 11 7/8" x 9"
6" x 5 7/8" x 9"


XL Cap
3" x 18"/12" x 13"